Crystal Owens, MD
Chief Medical Officer
Dr. Crystal Owens joined MarillacHealth as Chief Medical Officer in March 2019 after previously holding leadership positions at HopeWest (Grand Junction) and at CareSource (Salt Lake City). Dr. Owens grew up in Georgia among a family of preachers and teachers who instilled in her a desire to serve others. She earned her M.D. degree from Loma Linda University in 2001, and she completed Family Practice Residency at St. Mary's (Salt Lake City) in 2004; she holds an additional board certification in Hospice and Palliative Medicine. She practiced for several years in Salt Lake City focusing on senior health, hospice, and palliative medicine and then in 2013 moved to Colorado and worked with HopeWest. Outside of work, Dr. Owens enjoys hiking and other outdoor activities with her husband and their dogs.
Stephanie Sayers, DO
Primary Care Physician, Medical Director, Grand Junction Site
Dr. Sayers joined MarillacHealth in October 2018 as Medical Director of our GJ site. She completed medical school at Midwestern University Arizona College of Osteopathic Medicine (2014), and residency at the Fort Collins Family Medicine residency program (2017). Following her residency, she stayed in Fort Collins where she worked in private practice. Dr. Sayers enjoys seeing patients of all ages, and feels that it is important to have a strong patient-physician relationship. She treats the patient as a whole, and doesn't focus on "just the disease." When she is not working, she enjoys spending time with her husband and children. She and her family enjoy the outdoors – especially fishing. She also enjoys bowling and trying out new restaurants.
Andrea Nederveld, MD
Primary Care Physician - County Clinic
Dr. Nederveld joined MarillacHealth in September 2018. She attended the University of Michigan for undergraduate, Michigan State University for medical school, and University of Michigan for residency training. She is an Internal Medicine/Pediatrics trained physician who has lived and worked in Grand Junction for the past twelve years. She previously worked at Marillac from 2005-11 and was in private practice from 2011-2015. In 2015 she started a fellowship in primary care research through the University of Colorado. With her fellowship now complete, she is now an assistant professor in the Department of Family Medicine at CU, but will continue to live and work clinically in Grand Junction. Her primary research interests are in obesity treatment and prevention as well as exploring the effects of social determinants of health on practice strategies and health outcomes. In her free time, she enjoys spending time with her husband, three kids and dog doing fun things outside.
Leah Barjenbruch, PA-C
Certified Physician Assistant - Grand Junction Clinic
Leah completed her Masters of Physician Assistant Studies at the University of Nebraska Medical Center in 2015. Leah has been practicing as a family practice physician assistant for the last 3.5 years in rural western Nebraska. She enjoys family practice because it allows her to see patients of all ages with a variety of medical conditions. In her spare time she enjoys spending time outdoors with her husband, Jared, and their two black labs. They enjoy hiking, camping, and snowshoeing.
Derek Diaz, PA-C
Certified Physician Assistant, Grand Junction Clinic
Derek is a graduate of Western University of Health Sciences, Pomona, CA after obtaining a Master's degree in social work from University of Chicago. He was drawn to practice medicine at Marillac because of its patient-centered approach. Derek appreciates the area's outdoor life while enjoying the creature comforts of city.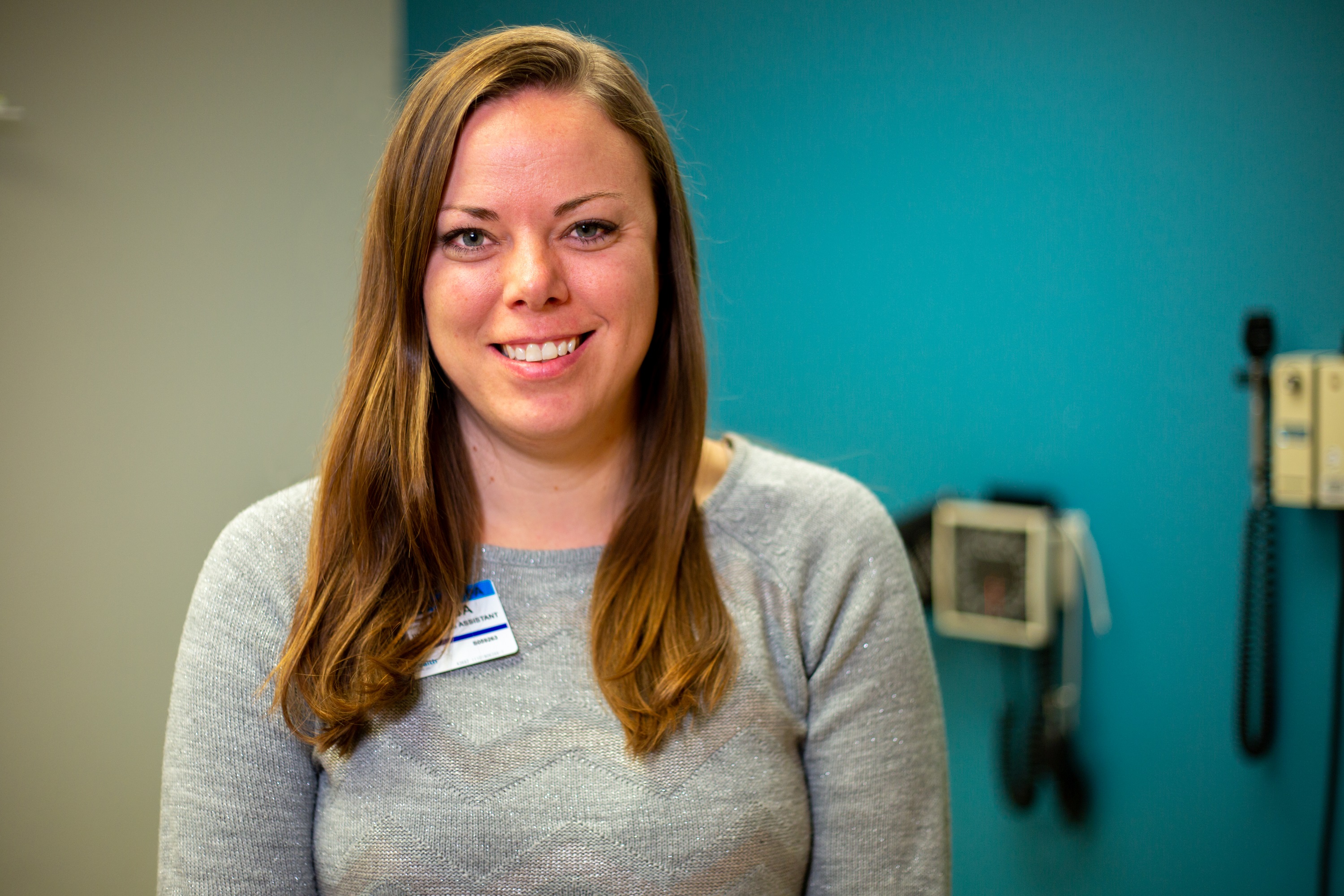 Rosa Gardner, PA-C
Certified Physician Assistant, School-Based Health Center
Rosa received her training at Rocky Mountain College in Billings, Montana. Prior to PA school, she worked as an EMT in the emergency department for 3 years and before that worked in outdoor education and community outreach. In the fall 2018, she returned to Grand Junction after a year working in family medicine in Reno, Nevada, and joined MarillacHealth.  Rosa enjoys seeing patients of all ages, and believes in developing a care plan in partnership with the patient. She was drawn to Marillac for the integrated model – she loves having behavioral health, optical, dental and medical care available all in one place which allows for ease of access for our patients as well as collaboration of their care providers! She enjoys outdoor recreation – particularly hiking and mountain biking – as well as reading and playing the piano.
Sherry A. Woods, MSN, APRN, FNP-C, BBA
Family Nurse Practitioner, County Clinic
Sherry joined MarillacHealth in June 2020. She completed her Master of Science degree in Nursing specializing as a Family Nurse Practitioner (FNP) at the University of Colorado in Colorado Springs, Colorado in 2018.

Prior to becoming an FNP, Sherry had worked as an RN for 15 years as a circulating nurse in surgery, perioperative educator, charge nurse, orthopedic and dental surgical coordinator, and surgical services director. She also has a nursing background in home health, hospice, and case management and pain management nursing. Most recently, Sherry has worked as an FNP in a family practice and sports medicine clinic working with patients of all ages and conditions.

Sherry enjoys caring for all patients from the pediatric to geriatric populations and focuses on all aspects of patient care to improve the patient's overall health and well-being. Born and raised in the Grand Valley, Sherry enjoys spending time with her husband Patrick, their adult children and their dogs taking family vacations, attending sporting events, as well as spending time in the Colorado outdoors camping, boating, hiking, fishing and 4-wheeling.
Deborah Borrego, FNP-C
Family Nurse Practitioner, County Clinic
Tom Lavery, DDS
Chief Dental Officer
Dr. Lavery began his employment with Marillac as a full-time dentist in 2005 and was promoted to the position of Dental Director in February, 2007. Dr. Lavery received his dental degree from Creighton University and completed his residency program at Wyoming State Hospital in Evanston, Wyoming. He possesses 37 years of private and public health dentistry.
Kathryn Hart, DDS
Associate Dental Director & Pediatric Dentist
Dr. Kathryn Hart graduated from the University of the Pacific School of Dentistry in 2003 and completed residencies in Advanced Education in General Dentistry (AEGD) and Pediatric Dentistry at The Children's Hospital, Denver CO in 2008. In addition to patient care, each year "Dr. Kate" supervises 2-3 AEGD dental residents assigned by New York University. She joined Marillac in 2008. In June 2021, she assumed the leadership position of Associate Dental Director. When she is not working, she spends time with her family including her two young sons and enjoys gardening and audiobooks.
Zachary Diamond, DDS
Dentist
Dr. Diamond joined MarillacHealth October 19, 2020. Dr. Diamond received his dental degree from Roseman University College of Dental Medicine in April of 2020 shortly after marrying his wife. While in dental school he received a scholarship from the National Health Service Corp (NHSC) which allowed him to begin his career focused on public health. Dr. Diamond says that his favorite thing about dentistry is the interaction he shares with patients and the ability he has to educate them about their dental health. When he is not "fixing teeth" he loves to spend time reading, binging TV shows and being outdoors. Being an avid skier from Utah, he is excited to see which state truly has "the greatest snow on earth".
Bradley Seago, DDS
Dentist
Dr. Seago earned his dentistry degree from State University of New York in Buffalo, NY and completed his residency at St. Joseph's Hospital Health Center in Syracuse, NY. He says on the job he enjoys performing root canals and extractions "…because I really enjoy helping get people out of pain." Joining Marillac in 2014 shortly after marrying his wife, Dr. Seago knows how to throw a mean Frisbee.
Amber Abeyta, RDH, BAS
Hygienist
Amber grew up in the Grand Valley. She attended Colorado Northwestern Community College (CNCC), and graduated with her Associates in Dental Hygiene in 2012. In May 2020 she received a Bachelor's in Applied Sciences- Dental Hygiene from Community College of Denver. She has a very active 1 year old  boy who keeps her very busy. In her free time she enjoys being with family, running 5ks, hiking, and being outside. Amber previously worked for Marillac from 2014-2016 but left to relocate for her husband's Navy career. She is excited to be returning to Marillac and to become more involved in the health of the community.
Sarah Fogle, RDH
Hygienist
Sarah grew up in the Pacific Northwest and moved to Texas when she met her husband in 2004. She attended Blinn College in Bryan, Texas where she earned her Associates Degree in Dental Hygiene in 2009. Sarah and her family moved to Colorado to be close to family in 2019. Sarah joined the team at MarillacHealth in January 2020 is excited to be a part of the community. Sarah has two active boys who keep her very busy! Her family has really loved living in Colorado and exploring this beautiful state!
Mae Haulman, RDH
Hygienist
Mae grew up in Western Colorado. She attended Colorado Northwestern Community College (CNCC) and graduated with her Associates in Dental Hygiene in 2017. In her free time, she teaches fitness classes and coaches wellness. She loves her garden, is a crazy cat lady- loves her two kitties and is a proud wife of an amazing nurse. She also loves to be active outdoors- skiing, mountain biking, trail running and all the things! Creating room for people to feel accepted, valued and loved is so important to her and Marillac feels like a place to do just that. She is so excited to be a part of the Marillac team! 
Valerie Hoffman, RDH, BAS
Hygienist
Valerie received her dental hygiene training at Colorado Northwestern Community College (CNCC), finishing in 2014. In May 2020 she received a Bachelor's in Applied Sciences- Dental Hygiene from Community College of Denver. She works closely with Marillac's patients to build their confidence, knowledge & comfort. Reading, writing, hot yoga & all things "Star Wars" make her happy, as does riding her recumbent trike.
Nicole Lehar, RDH, BS
Hygienist
Nicole received her dental hygiene degree from Sheridan College in 2008. Later, she finished her bachelor of dental hygiene degree at the University of Wyoming in 2009. Nicole is married with two little boys and a chocolate lab named Ali. Nicole enjoys many adventures outdoors including hiking, fishing, running and skiing. Nicole's passion for dental hygiene shines during educating her patients. Nicole is excited to work with Marillac patients to build long relationships and aid in the care of our community.
Brittany Williams, RDH, BAS
Hygienist
Brittany attended dental training at Colorado Northwestern Community College and became a Registered Dental Hygienist in 2012. In May 2020 she received a Bachelor's in Applied Sciences- Dental Hygiene from Community College of Denver. She is enthusiastic about performing dental screenings and educating children and their families, "to make the dental world a little less intimidating." Time away from work includes painting, traveling, friends, family and a very special dog.
Connie Mercer-Cogburn, LPC
Associate Director of Behavioral Health
Connie Mercer-Cogburn joined MarillacHealth in May, 2021.  Connie is a Licensed Professional Counselor.  She received her Master of Arts in Clinical Mental Health from Adams State University.  Previously she worked as Director of Psychology/Behavioral Health for Grand Junction Regional Center.  Connie enjoys traveling, spending time with her husband and adult children and grandchildren, and her dog, Finley, a very energetic German Short-haired Pointer.
Rosie Lloyd, LCSW
Behavioral Health Provider (Licensed Clinical Social Worker), Grand Junction Clinic
Rosie joined MarillacHealth in March 2020. Rosie holds a master's degree in Social Work from the University of Denver, with a concentration in Advanced Social Work Practice with an emphasis on integrated health, ecological health and sustainability, community mental health and child welfare. Rosie has worked with many different populations, aging 4-90 years old over the past 9 years in many different community health settings. Rosie loves working alongside people who are looking for connection, support, knowledge, and motivation to make healthy holistic changes in their lives. Rosie enjoys exploring Colorado's outdoor playground, eating delicious food, and spending quality time with friends.
Rod Pyland, LCSW
Behavioral Health Provider, (Licensed Clinical Social Worker), County Clinic
Earning master's degrees in both Social Work and Public Administration for the University of Denver in 1978, Rod is licensed as a Clinical Social Worker and certified as an Acupuncture Detoxification Specialist. Rod imparts hopefulness and new skills to his patients. The unique acupuncture uses is designed to help with addictive behaviors, emotional balance and sleep. Rod and his wife provide foster care for children.
Karen Steinbeck, LCSW
Behavioral Health Provider, (Licensed Clinical Social Worker), County Clinic