Katherine Howe, D.O.
Family Physician – 6th Street Clinic
Dr. Howe joined MarillacHealth in January 2023. She attended the University of Colorado at Boulder for undergraduate, Des Moines University for Osteopathic Medical School and Phoenix Baptist for internship and residency training. She is a board-certified family physician. Dr. Howe moved to Grand Junction in 2010. She is currently the Medical Director at Grand Junction Regional Center, and she enjoys caring for patients with intellectual and developmental disabilities. Dr. Howe has a special interest in "root cause medicine" and she is working on becoming a certified Functional Medicine Practitioner through the Institute for Functional Medicine. In her free time Dr. Howe enjoys spending time with her husband and three daughters. She also enjoys yoga, hiking, cross-country and downhill skiing. 
Andrea Nederveld, MD
Primary Care Physician - 6th Street Clinic
Dr. Nederveld joined MarillacHealth in September 2018. She attended the University of Michigan for undergraduate, Michigan State University for medical school, and University of Michigan for residency training. She is an Internal Medicine/Pediatrics trained physician who has lived and worked in Grand Junction for the past twelve years. She previously worked at Marillac from 2005-11 and was in private practice from 2011-2015. In 2015 she started a fellowship in primary care research through the University of Colorado. With her fellowship now complete, she is now an assistant professor in the Department of Family Medicine at CU, but will continue to live and work clinically in Grand Junction. Her primary research interests are in obesity treatment and prevention as well as exploring the effects of social determinants of health on practice strategies and health outcomes. In her free time, she enjoys spending time with her husband, three kids and dog doing fun things outside.
Annette Rosling, MD
Pediatrician – 29.5 Road Clinic
Dr. Rosling joins MarillacHealth in August 2022. Dr. Rosling completed her undergraduate education at the University of Colorado at Boulder and then attended medical school at the University of Colorado Health Sciences Center. Her pediatric residency was at Primary Children's Hospital and the University of Utah in Salt Lake City. As a pediatrician, she cares for children from birth to age 18. Dr. Rosling not only provides well child checks with immunizations, but also sees children with illnesses and injuries, asthma, ADHD, autism, Type 1 diabetes, depression/anxiety, genetic conditions and much more. She enjoys helping families learn about normal growth and development of children while also helping them with behavior problems and other challenges.
Jennifer Stroh, DO
Family Physician – 12th Street Clinic
Dr. Stroh attended Colorado College for undergraduate training and Kansas City University of Osteopathic Medicine and Biosciences for medical school. She completed a Family Medicine Residency at North Colorado Medical Center in Greeley, Colorado. She spent three and a half years working in Alaska with the Alaska Native Medical Center system and then in 2009 returned to Colorado to practice medicine in Grand Junction. She has been in private practice since 2009 and now joins MarillacHealth in 2023. Dr. Stroh enjoys seeing patients of all ages, newborn to elderly, and providing comprehensive care to all of her patients, along with transgender health and women's health. Dr. Stroh is a Colorado native and enjoys spending time in the outdoors with her family.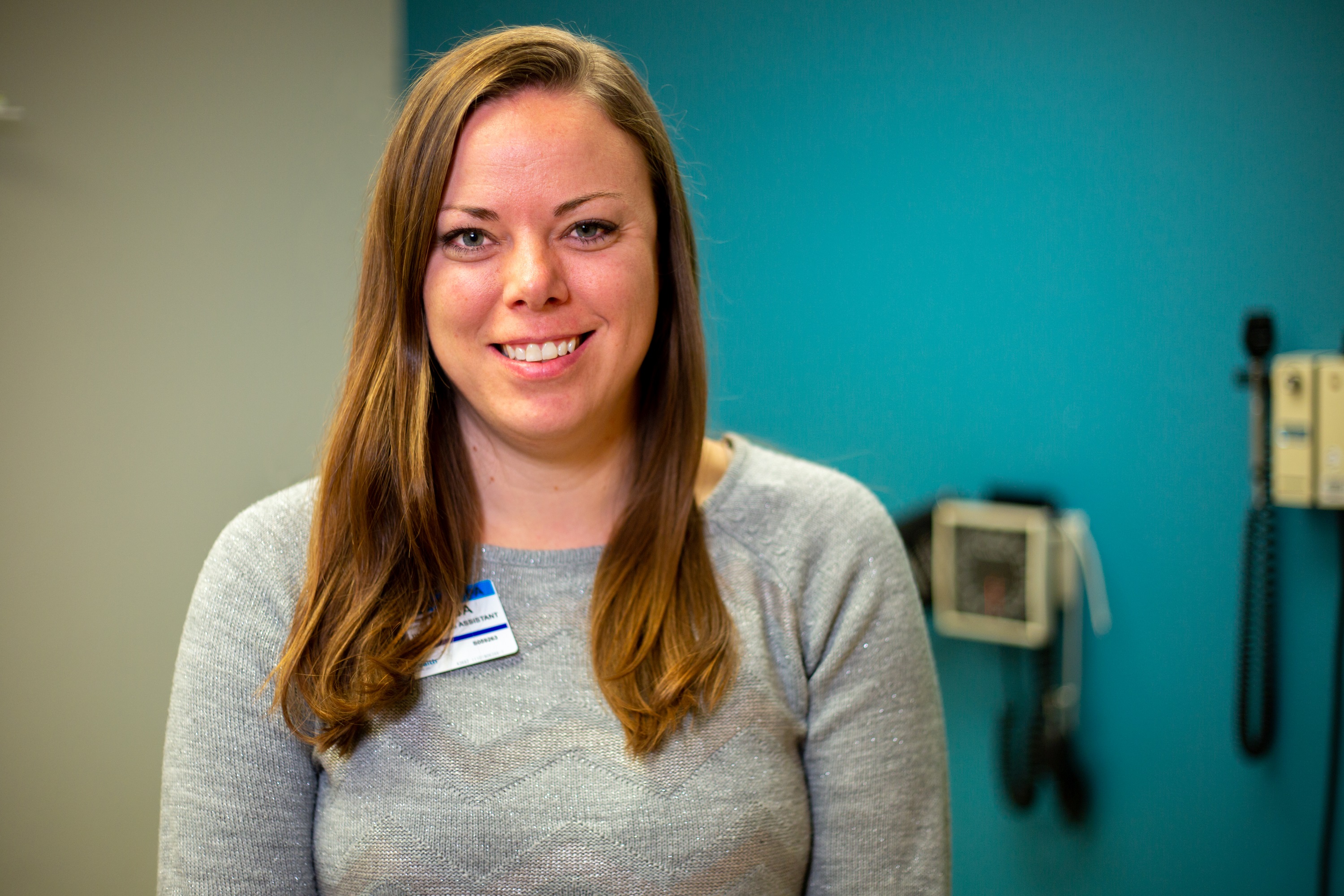 Rosa Gardner, PA-C
Certified Physician Assistant - School-Based Health Center - Central High School Warrior Wellness Center
Rosa received her training at Rocky Mountain College in Billings, Montana. Prior to PA school, she worked as an EMT in the emergency department for 3 years and before that worked in outdoor education and community outreach. In the fall 2018, she returned to Grand Junction after a year working in family medicine in Reno, Nevada, and joined MarillacHealth.  Rosa enjoys seeing patients of all ages, and believes in developing a care plan in partnership with the patient. She was drawn to Marillac for the integrated model – she loves having behavioral health, dental and medical care available all in one place which allows for ease of access for our patients as well as collaboration of their care providers! She enjoys outdoor recreation – particularly hiking and mountain biking – as well as reading and playing the piano.
Keelin Lewis, PA-C
Certified Physician Assistant - 6th Street Clinic
Keelin joined MarillacHealth in August 2022 after graduating from Colorado Mesa University here in Grand Junction. Prior to PA school, she worked with children in foster care, adults with developmental disabilities, and as a CNA in a rehabilitation facility. Before her career shift, she worked as a geomorphologist and hydrologist and still loves collecting rocks and chasing flash floods. After her undergraduate studies, Keelin served as a Peace Corps volunteer in El Salvador where she developed a strong commitment to service and the migrant community. Keelin enjoys patients of all ages and believes in working closely with her patients to determine the care they will receive. She also appreciates the integration of dental and behavioral health with the medical care offered at Marillac. In her free time, Keelin enjoys playing outside in any capacity as well as taking care of her dog and chickens and reading a wide variety of fiction.
Shannon Delite Leake, MSN, APRN, FNP-C
Family Nurse Practitioner - 6th Street Clinic
Delite is a board-certified as a family nurse practitioner. She began her career as a nurse in 2006 and has worked in long term care, adult and pediatric home health and hospice, and a Population Health Nurse. Delite completed her bachelor's and Master of Science in nursing at the University of Texas – Arlington in 2015 and 2019 with a graduate program focus as a Family Nurse Practitioner. She believes in the team approach and delivering healthcare with compassion meeting the patient where they are in their health and in partnership with the patient. The quote that inspires her the most: "If you're not making someone else's life better, then you are wasting your time. Your life will become better by making other lives better." – Will Smith. Delite, her husband David, and their youngest son enjoy spending time with family and friends, reading, and playing table top games. 
Grant McConaughy, MSN, FNP-BC
Family Nurse Practitioner - 29.5 Road Clinic
Grant will be available to care for patients for MarillacHealth in the Winter/Spring of 2023. He has undergraduate degrees from the University of Colorado at Boulder and Denver School of Nursing. Prior to becoming a nurse practitioner, Grant worked in emergency departments across the Front Range as well as emergent and urgent telehealth. His postgraduate master's degree was in nursing from Walden University while clinical education in family practice was in Colorado Springs, pediatrics in Castle Rock, and women's health in Lone Tree. Additionally, he has served as Clinical Instructor of Foundational Sciences at the College of Medicine – Central Michigan University. His areas of interest include family-inclusive care and pediatrics. In his free time, he enjoys running and spending time with his wife, child, and French bulldog (who does not run). 
Janie Phillips, FNP-C
Certified Family Nurse Practitioner - 29.5 Road Clinic
Janie joined MarillacHealth in December 2021. She graduated from Wichita State University with her BSN and worked in an emergency department for four years prior to returning to school. She then attended Vanderbilt University earning a Master of Science in Nursing, specializing as a Family Nurse Practitioner. She has experience at a Community Health Center in Wichita, Kansas where she served patients of all ages and varying cultures. Janie recently moved to Colorado and is very excited to continue family practice with MarillacHealth. She has a passion for preventive medicine and looks forward to implementing this in her care. In her free time Janie enjoys hiking, reading, and annoying her dogs with her attempt to play the cello.
Gretta Thompson, DNP, FNP-C, BSN, RN
Family Nurse Practitioner - 6th Street Clinic
Gretta joined Marillac in June 2022. Gretta is a board-certified Family Nurse Practitioner (FNP), who earned her doctorate in nursing practice from Johns Hopkins University in May 2022, completing one of her clinical rotations at Marillac in 2021. Gretta earned her BSN at Colorado Mesa University in 2017 after working in critical care for many years in the Grand Valley. Gretta enjoys caring for patients throughout the lifespan and has a special interest in adolescent health and preventative medicine. Additionally, Gretta enjoys educating the next generation of nursing and staying up to date on her practice as a nursing instructor. Gretta is a native to Colorado and has lived in Mesa County for the past nine years where she has grown her family and enjoys all the community has to offer. Gretta is a mountain biker and enjoys hiking alongside her two pups and kiddos. Gretta is passionate about your care, and excited to be part of the Marillac team!
Sherry A. Woods, MSN, APRN, FNP-C, BBA
Family Nurse Practitioner - 6th Street Clinic
Sherry joined MarillacHealth in June 2020. She completed her Master of Science degree in Nursing specializing as a Family Nurse Practitioner (FNP) at the University of Colorado in Colorado Springs, Colorado in 2018.

Prior to becoming an FNP, Sherry had worked as an RN for 15 years as a circulating nurse in surgery, perioperative educator, charge nurse, orthopedic and dental surgical coordinator, and surgical services director. She also has a nursing background in home health, hospice, and case management and pain management nursing. Most recently, Sherry has worked as an FNP in a family practice and sports medicine clinic working with patients of all ages and conditions.

Sherry enjoys caring for all patients from the pediatric to geriatric populations and focuses on all aspects of patient care to improve the patient's overall health and well-being. Born and raised in the Grand Valley, Sherry enjoys spending time with her husband Patrick, their adult children and their dogs taking family vacations, attending sporting events, as well as spending time in the Colorado outdoors camping, boating, hiking, fishing and 4-wheeling.
Tom Lavery, DDS
Chief Dental Officer
Dr. Lavery began his employment with Marillac as a full-time dentist in 2005 and was promoted to the position of Dental Director in February, 2007. Dr. Lavery received his dental degree from Creighton University and completed his residency program at Wyoming State Hospital in Evanston, Wyoming. He possesses 37 years of private and public health dentistry.
Kathryn Hart, DDS
Associate Dental Director & Pediatric Dentist
Dr. Kathryn Hart graduated from the University of the Pacific School of Dentistry in 2003 and completed residencies in Advanced Education in General Dentistry (AEGD) and Pediatric Dentistry at The Children's Hospital, Denver CO in 2008. In addition to patient care, each year "Dr. Kate" supervises 2-3 AEGD dental residents assigned by New York University. She joined Marillac in 2008. In June 2021, she assumed the leadership position of Associate Dental Director. When she is not working, she spends time with her family including her two young sons and enjoys gardening and audiobooks.
Katie Delancey, DDS
Dentist
Dr. Delancey is originally from Michigan where she attended Michigan State University for undergraduate in biomedical laboratory sciences followed by dental school at Detroit Mercy. She previously worked in private practice from 2017-2022 in Longmont, Colorado. Her passion in dentistry lies in a comprehensive approach with emphasis on prevention of oral disease. She loves connecting with her patients on a personal level and tailoring a treatment plan that works for the individual. Outside of dentistry, she likes skiing the Ikon resorts and backcountry camping. You'll also find her hiking with her Pyrenees mix dog named, Merry. She is excited to be here serving the Grand Junction community. 
Quinn Meehan, DDS
Dentist
Dr. Meehan joined MarillacHealth in January 2022. Dr. Meehan received his dental degree from the University of Maryland Dental School in 2019. He went on to complete an Advanced Education in General Dentistry (AEGD) Residency through East Carolina University in 2020. Dr. Meehan is originally from Frederick, Maryland and loved coming from large family. Dr. Meehan says his favorite part about being a dentist is helping patients with emergency treatment. During his free time he loves spending time outdoors mountain biking and exploring new places.
Amber Abeyta, RDH
Hygienist
Amber grew up in the Grand Valley. She attended Colorado Northwestern Community College (CNCC), and graduated with her Associates in Dental Hygiene in 2012. She is a busy mom too! In her free time she enjoys being with family, running 5ks, hiking, and being outside. Amber previously worked for Marillac from 2014-2016 but left to relocate. She is excited to be back at Marillac and be more involved in the health of the community. 
Mae Haulman, RDH
Hygienist
Mae grew up in Western Colorado. She attended Colorado Northwestern Community College (CNCC) and graduated with her Associates in Dental Hygiene in 2017. In her free time, she teaches fitness classes and coaches wellness. She loves her garden, is a crazy cat lady- loves her two kitties and is a proud wife of an amazing nurse. She also loves to be active outdoors- skiing, mountain biking, trail running and all the things! Creating room for people to feel accepted, valued and loved is so important to her and Marillac feels like a place to do just that. She is so excited to be a part of the Marillac team! 
Brittany Williams, RDH, BAS
Hygienist
Brittany attended dental training at Colorado Northwestern Community College and became a Registered Dental Hygienist in 2012. In May 2020 she received a Bachelor's in Applied Sciences- Dental Hygiene from Community College of Denver. She is enthusiastic about performing dental screenings and educating children and their families, "to make the dental world a little less intimidating." Time away from work includes painting, traveling, friends, family and a very special dog.
Connie Mercer-Cogburn, LPC
Associate Director of Behavioral Health - 6th Street Clinic
Connie Mercer-Cogburn joined MarillacHealth in May, 2021.  Connie is a Licensed Professional Counselor.  She received her Master of Arts in Clinical Mental Health from Adams State University.  Previously she worked as Director of Psychology/Behavioral Health for Grand Junction Regional Center.  Connie enjoys traveling, spending time with her husband and adult children and grandchildren, and her dog, Finley, a very energetic German Short-haired Pointer.
Ned O. Becker, LPC
Behavioral Health Provider - 29.5 Road Clinic
Ned joined Marillac Health April 2022. Ned has a Bachelor's degree in Psychology (1992) and a Master's degree in counseling (1994). Ned has worked in federally qualified health centers for most of the past four years. Ned has also worked in inpatient settings, outpatient settings and some private practice. He is a Licensed Professional Counselor with over twenty-five years of experience working with children, youth and adults. He has experience and training in Play Therapy working primarily with children and youth in the earlier part of his career. Ned treats each patient equally and his approach is eclectic as he works to establish a good 'fit' with each person/patient. In his spare time Ned enjoys hiking, cycling, snowshoeing, camping, visiting Native American historical sites and communing with Mother Nature. Ned loves residing in Western Colorado and his favorite food is chocolate!
Brandi Byars, MSW, LSW
Behavioral Health Provider - 6th Street Clinic
Brandi joined MarillacHealth in February 2022 and is a native of Colorado. She first received her associate degree in occupational studies of medical technician in 2004, which led to her interest in supporting patients and families in a medical setting. Shortly after receiving her undergraduate degree in social work from Colorado Mesa University in 2018, she traveled to East Africa for an international social work course to work with young women who had experienced loss or trauma.
Brandi went on to obtain her Master of Social Work degree and graduated Magna Cum Laude from University of Denver Graduate School of Social Work in 2019. In her graduate internship, she worked as a Behavioral Health Provider at a federally qualified Community Health Center in rural Colorado and has since provided mental and behavioral health support to patients in outpatient oncology and integrated primary care. She enjoys practicing all levels of social work, specializes as a trauma professional and holds a strong interest in suicide prevention. 
She describes working with patients, families, and caregivers in enhancing quality of life regardless of where they are at in their medical journey as a privilege. She spends her free time with her family and their two dogs, Pasta and Porter. She enjoys living in Colorado, practicing yoga, traveling, and riding bikes with her family.
Rod Pyland, LCSW
Behavioral Health Provider, (Licensed Clinical Social Worker) - 29.5 Road Clinic
Earning master's degrees in both Social Work and Public Administration for the University of Denver in 1978, Rod is licensed as a Clinical Social Worker and certified as an Acupuncture Detoxification Specialist. Rod imparts hopefulness and new skills to his patients. The unique acupuncture uses is designed to help with addictive behaviors, emotional balance and sleep. Rod and his wife provide foster care for children.
Andrew Rossway, LPC
Behavioral Health Provider - 6th Street Clinic
Andrew joined MarillacHealth in November 2021. Andrew is a Licensed Professional Counselor and holds a Master's degree in Clinical Mental Health Counseling from Northern Arizona University. Andrew has worked with many different populations in a variety of settings including wilderness therapy, in home ABA therapy, intensive inpatient therapy, outpatient therapy, and family therapy. Andrew enjoys collaborating with patients to achieve mental well-being and believes that everyone deserves to be happy and healthy. He was drawn to Marillac for the integrated model – as he believes working in collaboration with medical care allows the opportunity to address an individual's health in their entirety. When he is not working he enjoys rock climbing, whitewater rafting, and fly fishing with his wife and two dogs.